Pioneer4You IPV D2 75 watt mod: review
Above you see what could be one of the best portable powerhouses that Pioneer4You has released.
In the past, in Pioneer4You's early days, they put out some decent mods. I say decent because they were good at what they did, but they were buggy. There were many complaints about the IPV 4, IPV 4S, IPV Mini, IPV Mini 2. Faulty charging ports, faulty quality of the chips, poor quality of craftsmanship all around.
But, with their latest crop of mods, they've turned themselves around. The original powerhouse, the IPV3, was a 150watt dual 18650 mod that just killed the competition. But, it wasn't without it's downsides. Like screw attached battery covers and small ball bearing like buttons. Then they released the IPV3 Li. P4You fixed the screw cover for a slide cover secured with a ball bearing. They removed the ball bearing fire button with a nice big, flat, easy to operate fire button. Not only that, but they upped the wattage to 165 watts, with the option to upgrade the firmware to 200 watts. They also added Temp Control to the mix. Overall the IPV3 Li, was a major successor to the IPV3.
P4You then decided to go small. Small, yet with minimal compromises.
IPV D2 Details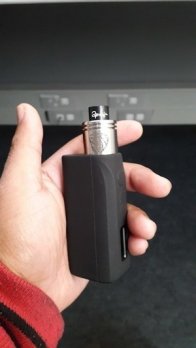 As you can see, this thing is small. But don't let the size fool you.
Here are the specs:
Powered by Yihiecigar (SX130h) chip
Output power Min. 7 watts, Max. 75 watts
Output power Min. 5 Joules, Max. 50 Joules
Output Voltage Min 1V, Max 8V
Output Current Min. 1A, Max. 25A
Standard Atomizer Resistant Min 0.20Ω, Max 3Ω
Joules Mode Atomizer Resistant Min. 0.05Ω, Max. 0.3Ω
Temp. Limit Fahrenheit Min. 200F, Max. 580F
Temp. Limit Centegrade Min. 100C, Max. 300C
Input Voltage Min. 3.2V, max. 4.5V, Typical 3.7V
Input Current Min. 1.3A, Max 30A
USB Charging for batteries? Yes
Protection:

Reverse Polarity Protection
Output short protection
Low resistance protection
Battery low voltage protection
Temperature overheat protection
PROS
Portable
Compact
75 watts in such a small package
Temp Control
Single 18650 battery (use High Drain batteries at all times)
Reliable
Workhorse
Ergonomic. Feels great in the hand.
Comes with silicone sleeve (black)
CONS
Ohm reading is off
Temperature Control mode is a bit wonky
Only fires down to .2 ohms (might not be a con to some)
Silicone sleeve is really tight. Difficult to remove to swap batteries
Only 2 colors. Silver and Black (might not be a con to some)
Proprietary charging port (not micro USB like other mods)
Myself and my staff have all been using this IPV D2 as our main mod in the shop. We all used to have dual box mods, powering up to 75 watts plus, and going through batteries quickly. Since the IPV D2 came on the scene, all of our dual box mods have started to collect dust. I usually go back to my IPV3 Li, when I have to charge the battery for the IPV D2. After the battery is charged, the IPV3 Li goes back to the drawer.
I've recently decided to try my hand at temp control on the IPV D2. I have a titanium dual coil @ 0.33 ohms, at 460 degrees F, and at 40 jules. I'm getting amazing flavor from this build. I've also noticed that my battery consumption has decreased a bit. I can go a full 9-5 at the store, without needed to change batteries. If I were to use power mode (kanthal builds), I'd have to swap out my battery by about 4pm. What I do miss is the warm vape I get from kanthal builds. You don't get much warmth with temp control builds. Well, you could if you bump up the temperature, but that leads to possible cotton burning and poisonous gases emitted from Ti or Ni wire. You want to vape safe and vape within the range that is non-poisonous.
In the CONS section, I note that ohm reading is off and so is the Temp Control mode is a bit wonky.
The ohms reading is either dead on or off on certain occasions. There are times when I build an atty on the device and fire it to get an ohm reading and it's way too low to fire. I know for a fact that my build (that I've done so many times before), that it isn't. So I place the atty on another device (IPV3 Li) and sure enough, it fires because the ohms are above the 0.2 ohm limit for the IPV D2. I tune the coils on the IPV3 Li and get it firing just the way it should. Take that build and place it back on the IPV D2 and bingo. The ohm reading is the same as the IPV3 Li. So, in short, if you're building close to the lower limit of the IPV D2, you may need to build on another device first. But, if you're not near the lower limit, you should be in the clear.
Temp. control I've noticed to be a bit wonky too. When building Ti on the mod, I get resistance too low when I dry fire to tune my coils. In the same vein as the Ohm Reading, I have to build on another Temp Control device to get it to the correct ohms. Once I've tuned my coils on another mod, I can move the atty back to the D2 and everything is golden.
So both the ohm reading and temp. control mode can be a bit frustrating to work with when you're building close to the lower limit of the chip's ability. If you're not building to the lower limit, you're golden.
Hope this helps in choosing this portable, sleek, powerhouse of a mod.